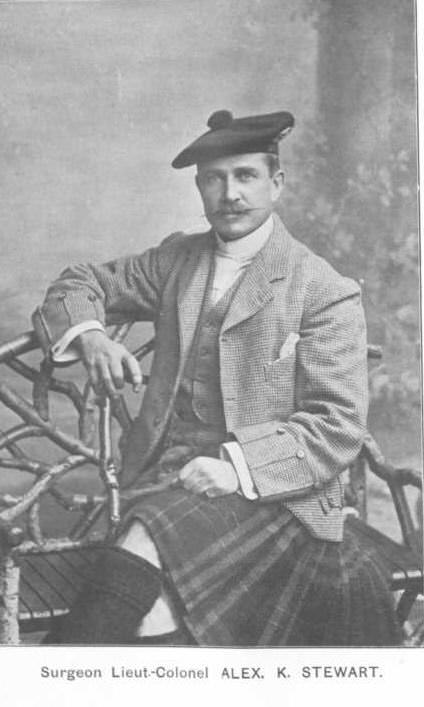 On 13th February 1945, of Lieut.-Colonel Alexander Kenneth Stewart of Achnacone, Appin, died at the age of 92. He was the head of the Achnacone branch of the Stewarts of Appin and the senior cadet still holding their original lands in Appin, being the 12th representative of the family. Both his great great grandfather and his great great grand uncle were killed at Culloden. He was educated at Haileybury and Edinburgh University where he took his medical degrees. As an athlete he was distinguished in rugby football, having captained Edinburgh University in 1874, in which year, and also in 1876, he played for Scotland against England. He entered the Indian Medical Service, passing first in his professional subjects. While in India he served with the Poona Horse and in the saddle and as a horseman he had few equals, being captain of his regimental polo team for 15 years. As a young man he once rode a full grown wolf to a standstill. He took part in the Afghan War of 1887, being present at the siege of Kandahar and in the Chitral Campaign of 1895. After his retirement in 1897 he resided at Achnacone and was appointed a Deputy Lieutenant and Justice of the Peace for the County of Argyll.
Colonel Stewart took a keen interest in the history of the Appin district and it was as a result of an appeal launched by him that four historical memorials were erected in the district. one marks the spot at Ballachulish where James Stewart of the Glen, an innocent man, was hanged. One commemorates the Battle of Stalc at Portnacroish in 1468. Another marks the grave in Lismore of Donald Stewart of Invernahyle (Domhnull-nan-ord), The forth, at Eaglais Nuadh commemorates the clansmen who were killed and wounded at Culloden, the MacColls heading the list of followers with 18 killed and 15 wounded.
The funeral took place on 16th February at the Episcopal Church of St. Cross, Appin, of which the Rev. Paul MacColl was the first incumbent. In accordance with the old custom signifying the ancient association of the MacCills with the Achnacone family in peace and war he was buried between two MacColls. On one side stood his fifth cousin Mr Ronald Stewart MacColl, Portnacroish and on the other side stood Mr Archibald MacColl Inverfolla. whose family for several generations have been tenants of Achnacone. Many MacColls and members of the Society were also present, the Council being represented by Mr Hugh G MacColl, Ballachulish.