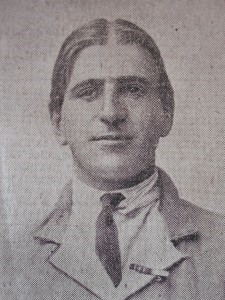 CPL Mervin Carmichael 
Extracts of a concert held for Mervin Carmichael, Cuildhu in 1918
Mervin Carmichael DCM MM with BAR:
In the Strath of Appin School, on Friday evening, 10th, there was held a most interesting meeting at which Private Mervin Carmichael, in recognition of his continuous and strenuous services for his country and of his gallant conduct in the field, was the recipient of a handsome sum of money, a watch, a War Bond and War Savings Certificates. Achnacone presided, and recalled the Private Carmichael won the Military Medal at the Battle of the Somme in 1916, and the bar to it at Passchendaele Ridge in 1917. He expressed himself as proud of the fact that his own son Captain (then Lieutenant) Ian, and Private Carmichael were among the first to set foot on the French soil in August 1914. From then till now, Private Carmichael has had but a few brief periods of rest. He was slightly wounded last year, and at present, after being gassed, he is recuperating in Dangallan Hospital, where he occupies the Appin Bed. Mervin Carmichael
To Mrs Stewart of Achnacone was assigned the pleasant duty of handing over the gifts which she did in chaste phrasing with her usual grace and tact. They were, she said, in token of affection and pride for all Private Carmichael had done for his country.
The gallant soldier, on rising to reply, was received with vociferous cheers from the gathering, largely composed of young ladies, all admirers of Appin's most popular hero. He manfully and feelingly thanked Achnacone and his lady, and all the subscribers for their appreciation of his services. He recalled the dark days of 1914, when Lieut. Ian Stewart and he fought shoulder to shoulder for their homes in Appin. Turning to Mrs Stewart, he begged leaved to present her with his photograph as a memento of the occasion.
Rev. Charles MacDonald, in a speech appreciative of the heroism and endurance displayed by our soldiers, roused the enthusiasm of the meeting to the highest pitch when he declared that Private Carmichael was an honour to Appin, and it was a pleasure to them all to honour him. Mr Carmichael, Cuildhu, is to be congratulated on the success of his two soldier sons. Lieut. Ian Carmichael won the D.S.O. early in the war. At the close, the National Anthem was sung.
1918.
Gazette Archives
1211 PTE. M Carmichael, M.M., 2nd Bn., A. & S. Highrs. (Appin).
For Conspicuous gallantry and devotion to duty from 20th to 23rd September, 1918, near Villers Guislain, as runner between Bn. H.Q and front line. He did six journeys each way every day, under shell and machine-gun fire, 200 yards being in full view of the snipers and machine guns in the village. On the last day he carried up two loads of bombs and guided two platoons forward, showing tireless energy throuhout.
16th January 1919.