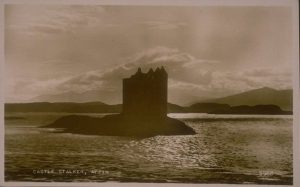 The castle we see today was built in the early stages of the 16th century, by royal expenditure of King James IV, for the Stewarts of Appin. The castle sits on a small island at the entrance to Loch Laich, called the 'Cormant's Rock' (Creag an Sgairbh). This name later became the war cry, used by the men of Appin during times of battle. The name 'Stalker' translates to the Gaelic word Stalcaire, meaning Falconer. This was a favourite past time of James IV.
King James IV and the V both visited Appin and stayed, on numerous occasions, in the castle.
The castle was built by stonemasons of great expertise, with the corners of the building being very true for plumb.
Some parts of the walls are 9″ thick.
A small dungeon or hold was also constructed, with records existing today, naming the unfortunate men held there.
In 1620 Stalker Castle was lost from the hands of the Stewarts to the Campbells, during a night of drinking. Duncan 7th chief clan of Appin exchanged the castle for an eight-oared galleon. During the following sobering morning as Duncan began to recollect his doings, the Campbells arrived at Stalker. Keeping Duncan to his word, they took possession of the Castle. The Stewarts didn't regain occupancy until near the end of the sixteen hundreds.
However during the time of the 1745 uprising, the Campbells garrisoned the castle and remained there until it fell into a poor state of repair. Around 1800, the Campbells left the castle for their newly built house at Airds, at todays Port Appin. Stalker Castle became roofless about 1840 and remained in a ruinous state until its restoration in the 1960's, by Lt. Col. Stewart Allward and his family