A Short History of Annat Church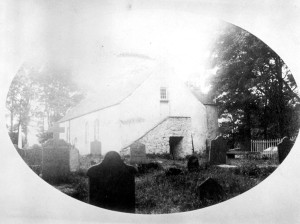 The present ruins of Annat Church were built (or overhauled) in 1749, as per the date stone above the South doorway. The building was originally in the form of a rectangle, with two outer stone staircases on the East and West gables that lead to inner galleries. Records date back to a church building in 1641 called An Eaglais Ur (The New Church), suggesting this predates an earlier church on the grounds at Annat. Second-hand stone can still be seen today.
In 1776 it was decided that the church was too small and in the late eighteenth century a North wing was added, forming a tee shape building. This also incorporated an inner gallery, with another set of stone stairs, in the North East corner of the building.
As the church passed through different dominations the building eventually fell into a state of disrepair.
Laterally, the West gallery was closed and the Sunday School was held in the East gallery.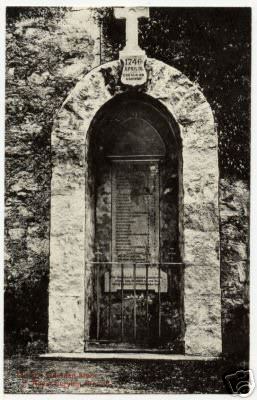 In the 1880's it was decided that the upkeep of the church building was no longer viable and a location for a new Culloden Memorial Stonechurch was sought. Ground was obtained from Airds estate and 1889 Annat Church closed and the new Parish Church at Tynribbie opened in 1890.
The roof was removed from Annat church and the masonry from the top part of the gables were reused to build the boundary wall at the new church.
The Stewarts of Appin headstone was removed from Culloden by Lieut-Col Alex Stewart of Achnacone and brought to Appin in 1906. Under his instruction a memorial was erected for the Appin men, who died or were wounded while fighting for the Jacobite Cause, during the 1745 Uprising. The stone stair on the West gable was removed and the memorial was placed on the wall with the Culloden headstone at the base.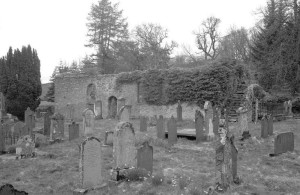 The ivy was probably growing on the church walls before the building became disused. In an early 1900 picture, ivy (the Hedera helix species) had considerable growth on the South East corner. This has now, through time, spread through the ruins of Annat Church.