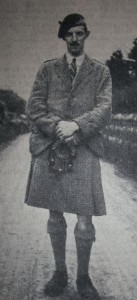 Tom Guy Bullough. Tom was born in 1900, son to Tom and Jessie Bullough of Fasnacloich. He studied science and mechanics, also a keen sportsman and motorist enthusiast.
In 1922 he married Marjorie Brodrick Chinnery and they had two sons, John and Alistair.
His elder brother, Lieutenant John Leodius, was killed in action while leading men at Cambrai, France in 1915; he was 22 years of age.
In June 1934 Tom developed a serious heart infection and died a month later on 1st July 1934, at the age of just 34. He was buried at Fasnacloich.