Ian Maitland 1905 – 1942
Ian Maitland was born in 1905, at Fasnacloich, Appin, Argyll. He was a son to John (a gardener to the Bulloch family at Fasnacloich) and Barbara Maitland. He had two brothers and two sisters.
Before the war, Ian was a chauffer for the Bullochs and also worked as a signalman on the railway.
He was married to Mary Rowan MacLean (the tailors daughter, Achosrigan). In 1929 their daughter Flora MacColl died in Fasnacloich, from TB, at the age of just 8 months. His wife fell victim to the same disease in 1936 at the age of 34, in 1936 after a 6 year illness. Both are buried in Appin, along with Ian's younger brother Alistair, who died of pneumonia in 1917 aged 13 months.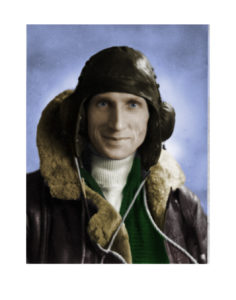 During the WW2, Ian was a Flight Lieutenant in the 'Royal Air Force Volunteer Reserve'. He flew with the '408 Royal Canadian Air Force' and was a Wireless Operator and an Air Gunner, flying Lancasters and Hampden Bombers.  The 408 Squadron was formed as part of the No.5 Group RAF. It was the second Royal Canadian Air Force bomber squadron formed overseas and became known as Goose Squadron.
Ian had been awarded the DFC(Distinguished Flying Cross).
On the 28th of August 1942, Ian was flying a Hampden B MK I Bomber. Their operation was to bomb, at night, over the heavy industrial city of Saarbrücken, in Germany.
On their return flight, just 160 miles from Saarbrucken, the Hampden Bomber AE197  was shot down by the German Luftwaffe, a 'Night Fighter' called Wilhelm Herget. Their plane crashed at  Boussu-Lez-Walcourt, Hainaut, in Belgium at 2322 that evening. (They were one of 5 from 408 squadron lost on 'operation Saarbrucken'). Ian and W/C Twigg were killed while the two remaining crew survived, F/L G C Fisher (navigator) and F/L Van Den Bok (wireless operator and air gunner). Van Den Bok was wounded in the leg with shrapnel and awarded a First bar to his DFC on his return to the UK.
Ian was buried at Boussu-Lez-Walcourt Communal Cemetery in Belgium. (Boussu-lez-Walcourt Communal Cemetery contains two Commonwealth burials of the First World War and one from the Second World War, all of them airmen).
Ian's name is enscripted on the head stone of his wife and child, at their burial place, that lies within the walls of Annat Church.