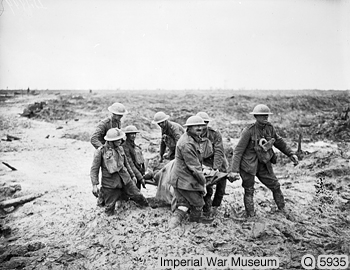 Duncan McIntyre was born in 1893 at Fortingal Perthshire and was the eldest child to John and Isabella. His father, born in 1868, worked on the railway as a surface-man and platelayer. While the Ballachulish Railway line was under construction the family moved to Appin, being one of the first residents at the Appin Station Railway Cottages (the railway opened in 1903).
Duncan was one of nine children, Jessie b.1896 Killin, William b.1897 Killin, John b.1899 Killin, Kate, Peter b.1908 Appin, Thomas b.1914 Appin, Meg b.1911 Appin and Isabella b.1916 Appin. Peter died at the railway cottages at the age of just one year old, from Hydrocephalus in 1909.
During the Great War, Duncan joined the 1st Scots Guards. He was killed on the first day of a three day Battle at Pilckem Ridge, on the 17th July 1917. The attack started at 3.50am on the morning of the 31st in mist, semi darkness and relentless heavy rain.